Thank you for your interest in our special offer for the Cybersonic3 Oral Care System.
Select the toothbrush version you prefer, add it to your shopping cart, and enter your discount coupon code to redeem this special offer.
CALIFORNIA CUSTOMERS – on checkout, your shopping cart will show sales tax being charged on the full price of the system. You will only be charged tax on the Shipping and Handling of $3.95 and on any extra items you add to the order. Your packing slip will show the corrected amount. We apologize for the confusion.
Select a brush replacement plan and we'll send you a free brush head and other cleaning attachments every three months, you just pay a $7.99 shipping & handling fee per set. While you have an active replacement plan, your system will be covered by our exclusive lifetime warranty. This could be the last toothbrush you ever have to buy! See Terms & Conditions for more details.
Add "Whitening" to your replacement plan and for just $2.99 you'll get a booster treatment of our Sonic White bleaching system, the first tooth whitening system designed specifically to use the sonic power of your toothbrush for fast, gentle whitening.
Sale!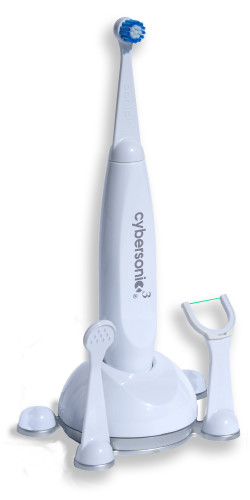 Cybersonic3 Oral Care System
Product Description
Cybersonic3 Complete Oral Care System
 – Free Shipping!
 – World's Fastest Toothbrush*
 – Integrated sonic flossing, tongue cleaning, and breath freshening systems
 – Available Lifetime Warranty*
 – Available Free Brush Heads for Life*
Cybersonic's unique replacement programs get you free brush heads and accessories and extend your warranty for life.* Sign up for our Brush Replacement Plan and every three months we'll send you a new compact brush head, new flossing attachment, and a new tongue cleaner. The parts are free and you just pay $9.99 shipping & handling per set. There are no contracts to sign and you can cancel at any time.
Add Whitening to your replacement plan and every three months we'll send you a booster tube of Sonic White©, our exclusive whitening system designed specifically for use with sonic toothbrushes. Each treatment is just $2.99 and you pay no additional shipping.
As long as you have an active, replacement plan, your toothbrush is covered by our Lifetime Warranty. We'll replace a defective power handle or charging base at no charge except shipping and handling.
* Shipping and handling applies to all shipments. Lifetime Warranty requires active replacement program sign up with credit or debit card. Sales tax where applicable. Terms, conditions, and exclusions apply. See Terms & Conditions for details. All shipments to Canada and Mexico subject to US$5.00 S&H surcharge per shipment above shown price. "World's Fastest" measured in brush strokes per minute.