Add "Replacement Plan Update" to your shopping cart, "View Cart" and "Proceed to Checkout" to send us your updated billing information securely. We'll use what you submit to update your existing shipments.
Due to rising costs and postage rates, we have been forced to increase our shipping & handling rates by $2.00. All shipments will be billed at the new rate.
To make changes to the contents or timing of replacement shipments or for any questions, please give us a call at (800) 770-7525.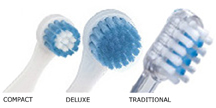 Product Description
Submit updated payment information for your brush and accessory replacement plan. We will update your existing account and continue your shipments on their normal schedule. For security, your current payment method is not displayed. Please confirm your name, address, and new payment information to update your account.
With an active replacement plan, you will automatically receive the fresh brush heads and attachments that will keep your system cleaning at its best. Your Lifetime Warranty protection is only in effect while you have an active replacement plan and is only available with an active plan.
Contact us to make any changes to your account.
Due to rising costs and postage rates, we have had to increase our s&h fees by $2.00 for all accounts. After updating, your shipments will be billed at the new rate. If the increased rate is a hardship for you, we can hold your fees at the prior rate by combining your shipments. You would receive shipments half as often, but with double the quantity. With this plan, we can hold your rates steady and you will pay no more in total than you were paying previously. For more information or to take advantage of this option, please include a note with your update submission or contact us.
$.01 update fee is charged only to verify account information and will be applied to your normal replacement plan fees.
All shipments to Canada and Mexico subject to US$5.00 S&H surcharge per shipment above shown price.