Complete Systems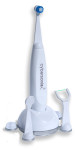 Cybersonic3 Sonic Oral Care System
Cybersonic3 is our most advanced system and the result of over 20 years of research and development. Running at an astonishing over 40,000 strokes per minute, it is the world's fastest toothbrush allowing for a complete cleaning in only 60 seconds. Our patented harmonic resonance technology allows for this high speed with no moving parts in the brush head. This makes the system effective, durable, and inexpensive to maintain. With dual brush head designs, integrated sonic flossing and tongue cleaning systems, and whitening optimized for use with sonic brushes, Cybersonic is also the world's only complete integrated sonic oral care system. With our free brush head program and available lifetime warranty, Cybersonic3 could be the last toothbrush you ever buy.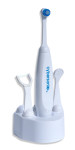 Cybersonic Classic Oral Care System
Built on the time tested design of our original toothbrush, the Classic Edition adds a number of electronic, design, and packaging improvements to make it our most efficient system ever. With a dental professional style brush head, integrated sonic flossing, tongue cleaning, breath freshening, and whitening systems, Cybersonic Classic is world class complete oral care at an affordable price. Especially when combined with our free replacement programs and available lifetime warranty.
Brush Heads & Accessories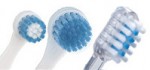 Cybersonic has three available brush head styles for optimal brushing.
· Our small, round compact head is like a dentist's professional brush for effective cleaning on back teeth and hard to reach areas.
· Our larger, round, deluxe brush is unique to Cybersonic3 and has 80% more surface area for those who prefer a larger brush.
It is also ideal for applying our Sonic White bleaching system.
· The rectangular, traditional brush head mimics a classic manual brush bringing sonic cleaning to a familiar design.
Brushes are available for individual purchase, or sign up for one of our replacement plans and get free brushes and accessories and access to our lifetime warranty.

Cybersonic's unique sonic flossing system uses the fast, but gentle vibration of your toothbrush to make flossing quick and easy. Flossing is one of the most important parts of taking care of your teeth…and the one that most people skip. Snap on one of our pre-strung floss tips and you have a fresh, new flosser to use every day awkward reaching or pinched fingers.

Our patented tongue cleaner works like a mini-carpet cleaner to remove food, bacteria, and debris from your tongue. Bacteria on the tongue is the most common cause of bad breath and halitosis. Your tongue can also harbor germs that contribute to tooth decay and gum disease. Make tongue cleaning part of your complete oral care regimen.

Sonic White® is our unique tooth whitening system designed to work specifically with sonic toothbrushes. Sonic White uses the fast, gentle vibrations of your toothbrush to release the bleaching power of oxygen. Each tube contains a week's treatment that will give you fast, noticeable results, while you brush. Add a booster tube of Sonic White to any of our replacement plans to avoid new stains and keep your teeth looking as good as they feel.
Visit our Shop page to order any of our systems, replacement plans, or accessories